Unique Chocolate Wedding Favours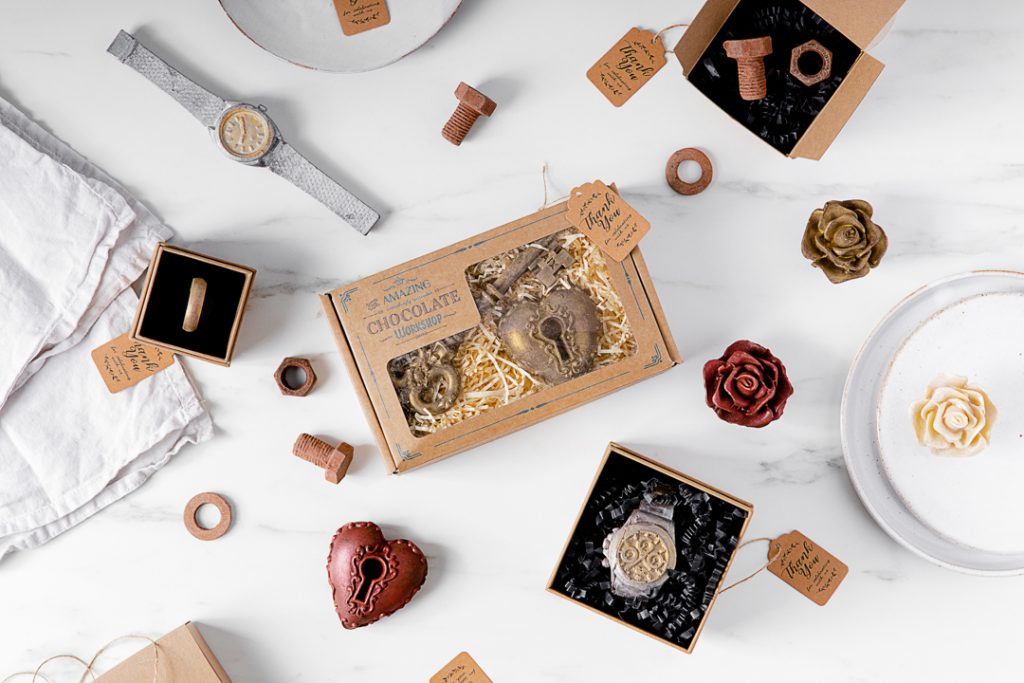 Add a unique touch to your big day with our mesmerising chocolate oddities.
Choose from classic wedding items such as elegant flowers & hearts, or from our huge range of over 230 eclectic items you can choose something totally personal to you that would add an extraordinary twinkle to your wedding day.
The opportunities are endless and our amazing chocolate products, great customer service and larger order volume discounts are here to help you!
Personalised Name Tags or Boxes
Our items can come in gift boxes, individually packaged in stand-up clear presentation bags or simply bulk-packed for you to add your own packaging.
We can print stylish personalised name tags for you for each of your guests. Simply send us a list of names and we will do the rest.
If you have your own tags or stickers we can apply them for you or send the items without any branding for you to apply your own name tags.
All of our gift boxes can be personalised with a printed sleeve with any design and message.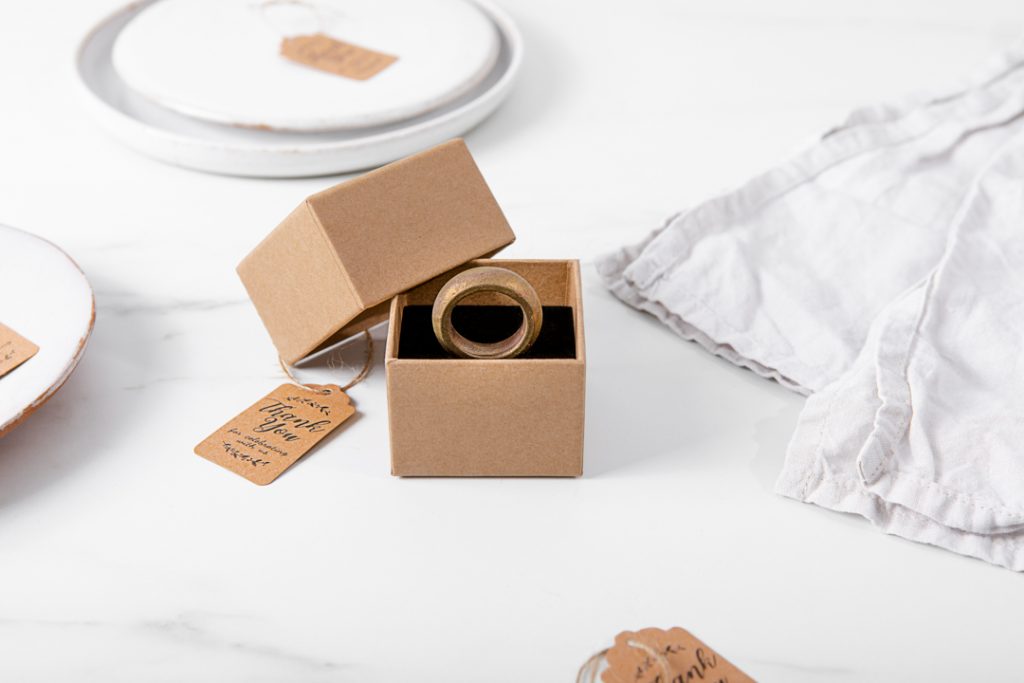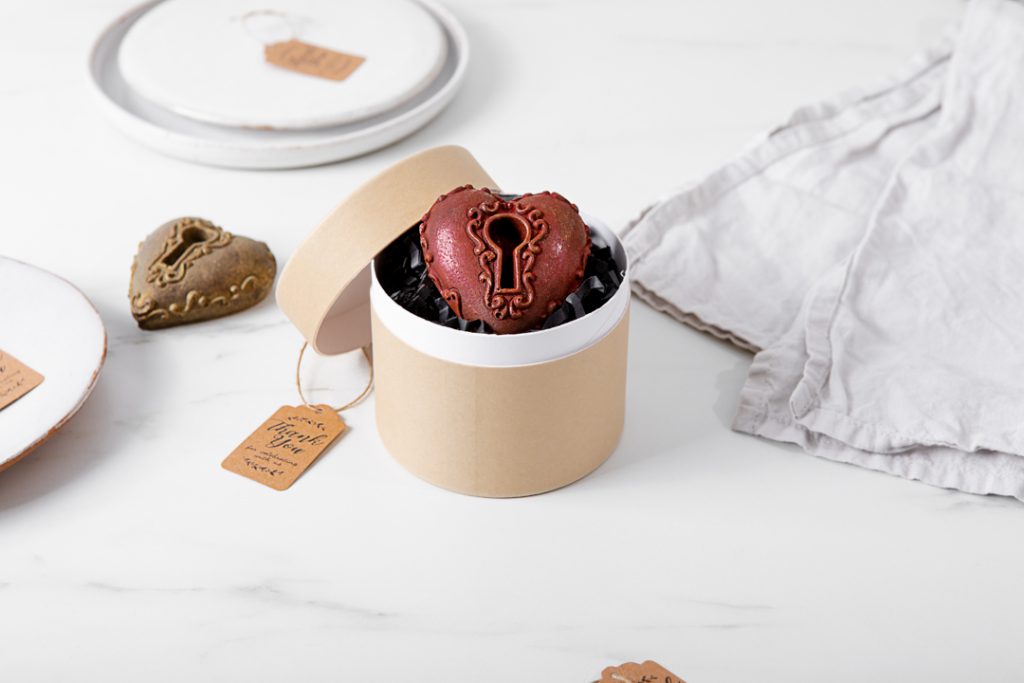 Bespoke Packaging To Suit Your Colour Scheme
We can source any type of packaging to ensure our products fit perfectly within the colour scheme of your big day.
Even the colour of the food-grade paper filling can be customised.
Quirky and eclectic items for a personal touch
Whether it's nuts and bolts, pieces of cheese or even false teethc (!), we've got a wide range of incredibly detailed chocolate oddities to ensure there's something to suit any interest.
There is no minimum order amount, and you can mix and match any number of items you wish.
Get in touch using the quick form at the bottom of the page for a price or some more information.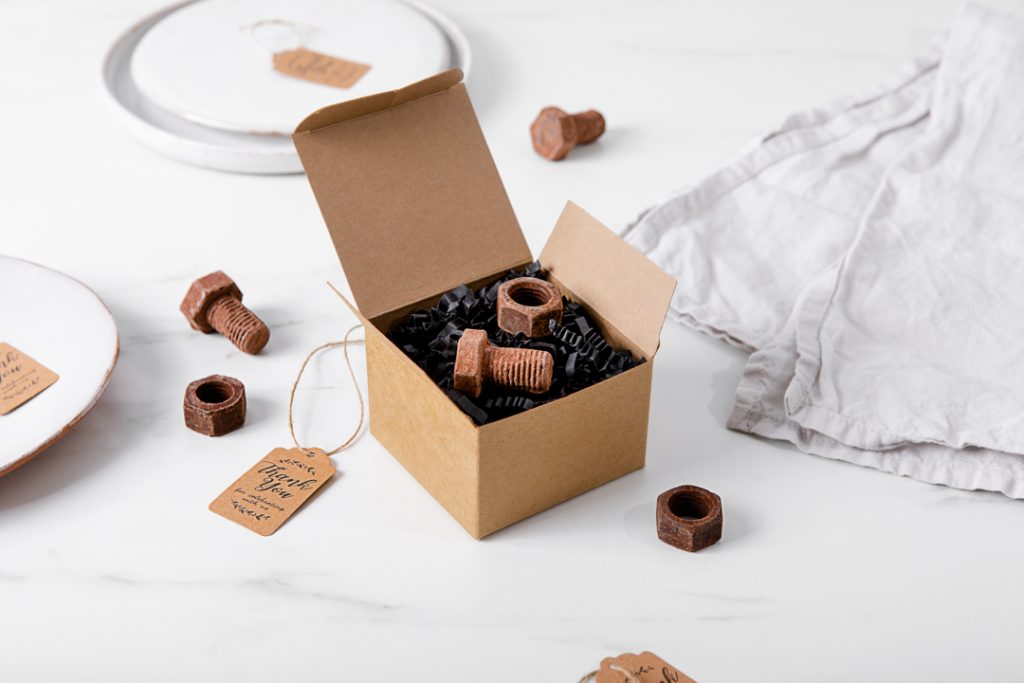 Award-winning chocolate for a fitting memento of a special day.
Get in touch using the form below for prices and some helpful advice.
We can ship to anywhere in the world and can work with small or large volume orders.
No ordinary chocolate:
The Famous Trinitario Cocoa Bean.
This is what really sets us apart. We use a rather special cocoa bean called the 'Trinitario', from Venezuela; an extremely sought after variety used in less than 10% of worldwide chocolate production due to the expertise needed to grow them.
They are world-renowned for their fine flavour and only used by premium producers. Google 'Trinitario Cocoa Beans' and you'll see it really is the real deal.
Fine-grade ingredients = fine flavour.
Our cocoa beans are carefully sourced and chosen for their luxurious, indulgent flavour, making our chocolate pieces truly special both to look at and to taste.
Our plain chocolate is naturally velvety, smooth and creamy and contains less sugar than a lot of every day chocolate you might find in the supermarket.
High cocoa content. No compromise.
We put 64% cocoa in our creamy plain chocolate, giving it the perfect balance of sweetness and rich indulgence; it's mellow and moreish without any lingering bitterness.
Our milk chocolate contains a high 37% cocoa and our white contains a minimum of 30% cocoa. The result is all in the flavour, fine chocolate that's sweet without
being sickly.
Need a quick quote or more info?
Complete the form below and we'll get back to you by email. Don't worry if you don't have final numbers, or if you dont know exactly which items you need. There's no obligation and we're happy to help!