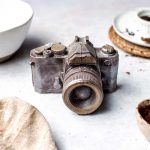 Intricately Detailed Full Size Vintage Solid Chocolate Nikon Camera
£35.49
Paying chocolatey homage to the glory of the vintage analogue camera, this full-size Nikon SLR solid chocolate camera took an insane amount of time to craft, delivering massive levels of intricate detail worthy of a true design classic.
Focus your eye on the incredible plastic casing texture effect, ultra-fine aperture lines and intricate dial and winder detail and you'll be forgiven for wondering whether to eat it or frame it.
Comes in stylish gift box.